Customer
As one of the UK's leading manufacturers and distributors of bathroom and wetroom products, Abacus Bathrooms are designed to offer their customers quality, innovation, design and colour in all aspects of commercial and residential bathrooms.
Abacus have the ability to offer the most comprehensive list of world class products to their customers. Abacus provide bathroom furniture, sanitary ware, brassware, heating solutions, waterproofing systems, sanitary systems, beautiful tiles and splash backs.
The Challenge
With a large selection of products available, Abacus were keen to create one product pack for their customers, but not just one brochure. With five separate brochures and a cover letter, it was a challenge to find a solution that would enable Abacus to encase them as a set whilst maintaining a high-end look and feel.
The added complication of needing to deliver five brochures to their customers in one pack would prove a challenge. With Abacus wanting to create something that would stand out to their customers, it was important to keep each brochure as a separate piece, offering customers the opportunity to browse each catalogue individually.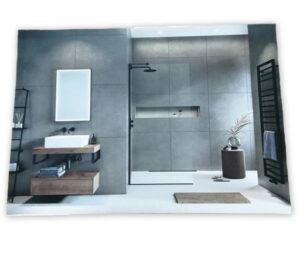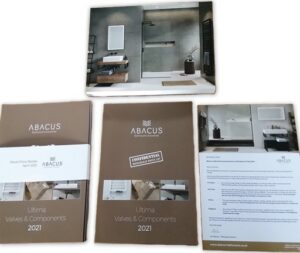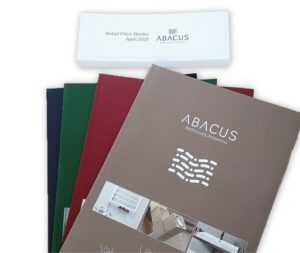 The Solution
Platinum was able to offer advice from start to finish on the best finishes, collation choices and postage options available. By soft touch laminating each brochure it gave an added feel of luxury to the already exquisite design from Abacus. Adding a sleeve wrap meant we were able to bring the four retail price books together creating a sleek finish.
With the design and finish of the brochures being of the highest quality the option to create a printed cover was the most logical for posting.
Avoiding poly bags and producing an eye catching, recyclable, printed, tear opening box meant access was easy and created a lovely finish if the customer wanted to continue to store their brochures after opening or recycle the outer cover.
The elegance of this job was clear to see as the finished product exudes confidence in the products contained within, as well as transmitting assurance in Abacus' ability to provide the best possible service and quality to their customers.
Everybody at Platinum was an invaluable support during the project, making sure of the outstanding print quality and meeting some very tight delivery deadlines. We are always pleased with the friendly and reliable customer service, thank you for your help!