Customer
An independent charity situated in the heart of North Lincolnshire, Lindsey Lodge Hospice and Healthcare has been providing high-quality, specialist palliative care and well-being services to local people and families living with life-limiting illnesses for over 30 years.
Every year, the dedicated team of staff and volunteers touch the lives of hundreds of people, either directly as patients, or by supporting family members or carers, before, during and after one of the most difficult times in their lives.
The Challenge
Charities face the difficult task of ensuring their income is utilised efficiently and their marketing campaigns yield maximum value. Lindsey Lodge sought a cost-effective and efficient method to distribute raffle tickets to their mailing list, while saving time and money.
Previously using a traditional approach where the recipient would fill in a separate raffle book, the process proved to be time-consuming for both the team and the recipient. In an effort to minimise waste and streamline the process, Lindsey Lodge wanted to provide a personalised booklet with pre-printed raffle tickets to their mailing list, with the hope that recipients would require minimal input to post the tickets back.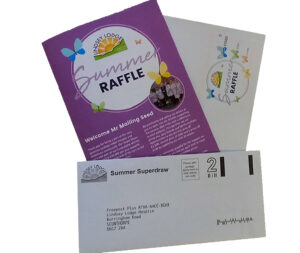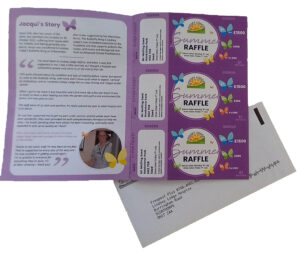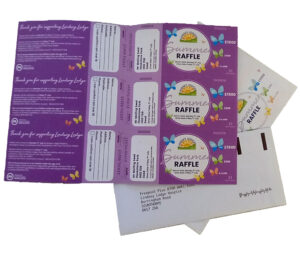 The Solution
Platinum provided a comprehensive solution by handling the design, printing, collation, and mailing of all of Lindsey Lodge's raffle books. The design of the booklet was left entirely to our in-house design team. Lindsey Lodge supplied images, text and brand guidelines and we created the one-piece mailer raffle booklet, which was very well received.
The use of booklets reduced the number of inserts making it more eco-friendly, and in turn, reducing cost. Each booklet was personalised with the recipient's pre-printed information throughout and enclosed in an attractive printed envelope which reduced the number of items that needs to be collated together.
Our team utilised camera matching technology during booklet production and enclosing to ensure that each personalised booklet was delivered to its intended recipient. Perforated tickets were included, making it easy for recipients to remove and purchase or sell them. The stubs were then sent back to Lindsey Lodge Hospice for raffle entry.
The mailing piece was further enhanced with an introduction and a story from those who had previously used the Hospice's services, along with enticing prizes and a pre-paid returns envelope, making it a powerful mailing piece.
I think the process has been great, you have a very helpful team with very little guidance and input from ourselves, the ticket books and envelopes were brilliant.