Customer
The Rugby League World Cup 2021 was the first time the Men's, Women's and Wheelchair tournaments took place at the same time, it was held in England between 15 October and 19 November 2022.
England won hosting rights for the competition on 27 October 2016. Organisers initially planned for the tournaments to go ahead between 23 October and 27 November 2021 but player welfare and safety concerns due to the COVID-19 pandemic caused the tournaments to be postponed until 2022.
The Challenge
Organisers were looking for a partner that had capabilities in handling diverse printing needs including mail merge. Their role would be vital in ensuring the Rugby League World Cup had all the necessary marketing materials and logistical items to make the event successful and memorable for staff and spectators alike.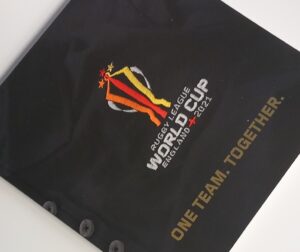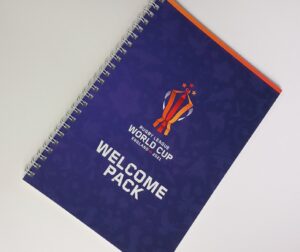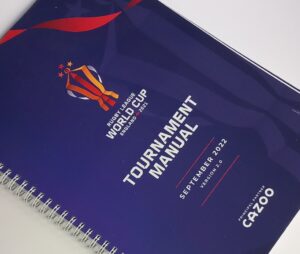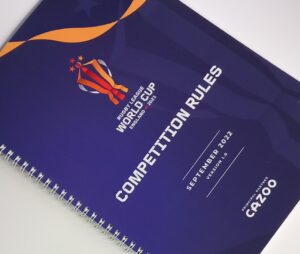 The Solution
RLWC2021 decided to partner with the team at Platinum as we could support them not only with the mailing but also with all the additional elements that were required for the event.
Our team had the privilege of printing 4000 mail merge mailouts of an A2 wall chart, as well as creating a range of guides, books, and booklets of different sizes and pages. One of the highlights of the project was the exquisite perfect bound personalized gold foil keepsake books, crafted exclusively for the staff involved in delivering the tournament, making it a treasured memento of the event.
In addition to that, we were entrusted with producing 21 different variants of the spectator guides, tailoring each one to specific locations as well as essential items such as name cards, menus, and parking passes, all of which had to be delivered in a very tight timeframe.
It was a challenging yet rewarding endeavour, and we took great pride in ensuring that the Rugby League World Cup 2021 had everything it needed to make the event a resounding success and a memorable occasion for all involved.
We were blown away with everything that Platinum delivered for us. They went out the way to ensure we got exactly what we needed, and quality of print was spot on and they were a dream to work with. What more can you ask for?