Customer
Established in 1919, Walker Foster stands as a reputable and esteemed general practice law firm. With offices in Skipton, Barnoldswick, Silsden, Settle, Ilkley, Northallerton, and Harrogate, their mission is to deliver trusted and dependable legal services to current and future generations.
The Challenge
As we approach the first anniversary of the opening of the Harrogate branch, we reflect on the signage project for Walker Foster. Due to their continued growth, Walker Foster opened its seventh office in Harrogate, occupying the second floor of a beautiful Victorian townhouse. They approached us with a brief to create internal wall and window graphics and exterior signage for their new office.
Our goal was to design office signage that maximises visibility for passersby while adhering to the constraints posed by older buildings.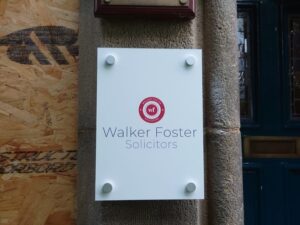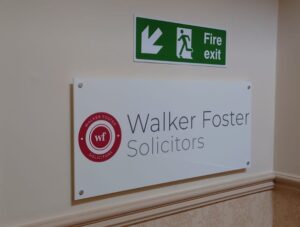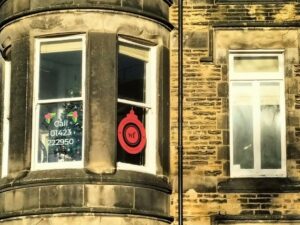 The solution
We were on hand from the outset, starting with a site visit.
Taking measurements and offering advice on the options available, from window vinyl to cut-out lettering and bespoke wall acrylics.
Working closely with our design team, we created a variety of different signage solutions, perfect for each area. The broad range of materials we can print on significantly enhances the versatility and quality of our offerings.
The large sash windows at the front of the property provided a perfect space for window stickers, achieving graphics that stood out with white bold vinyl lettering.
All were produced on budget and in the desired time frame and the Harrogate office continues to go from strength to strength.
Having an account manager that could advise and guide us on the right products to use at our Harrogate office was invaluable. With large windows and uneven walls we required an expert that would be able to make the best use of the space we had. Thank you Andrew and the team at Platinum.