Posted by
Share
With over 15 years' experience in helping clients organising events, Platinum's experienced account Manager, Ben Imeson, talks about promoting an event and how Platinum can help.
What is your position at Platinum and how long have you worked with clients helping them promote events?
I've been with Platinum for 25 years, so I've had my fair share of helping to organise event materials and of course I've exhibited at them too.
When clients are looking to promote an event how can Platinum help with planning?
Our initial input typically starts with a meeting. I visit the client to discuss the event, why they are organising or attending an event, what is the budget, what do they want to achieve? There are often many reasons, from showcasing products and services to client networking and prospecting.
Once I understand the overall ambitions we then discuss more details surrounding the venue, opportunities for branding, looking at the best ways we can help them deliver their brand message and be eye-catching.
There are many ways this can be achieved, from the main exhibition stand itself, to floor graphics, FSDUs, dump bins, way signage, brochures, giveaways and more, I suggest, guide and advise.
In a nutshell, please sum up how important print options can be in the success of promoting an event.
The print options are imperative. At the event the print items are as important as those who are working on the day. The print portrays your brand and your message. An eye-catching stand commands attention, products on show create conversation. I believe you need to have something for customers to takeaway, when the customer is back at the office or home, they need something in front of them to remember you by, a URL is not enough.
What products and services can Platinum offer to help you create the best impression, "stand out in the crowd"?
I pride myself on being able to give lots of advice having helped with many events in the past. The other great aspect of working with us is that we can support with all the marketing materials for the event. We can help with design, have a fully equipped large format department, we have amazing print machinery that can produce so many finishes and special effects, and even mailing to promote the event, all under one roof.
Some of the most popular products we produce are the stand itself, all the signage, floor, wall and window graphics, display units, booklets, bags, balloons, everything!
In terms of creating the best impression, make sure your stand, brand and products represent your company. Don't let a basic stand let you down in portraying the wrong image. Keep it clutter free and simple. The design and message should be easily read to catch the eye of a passer-by.  One thing I've seen a few times is not considering the layout of designs, keep important information above the table height or it won't be seen.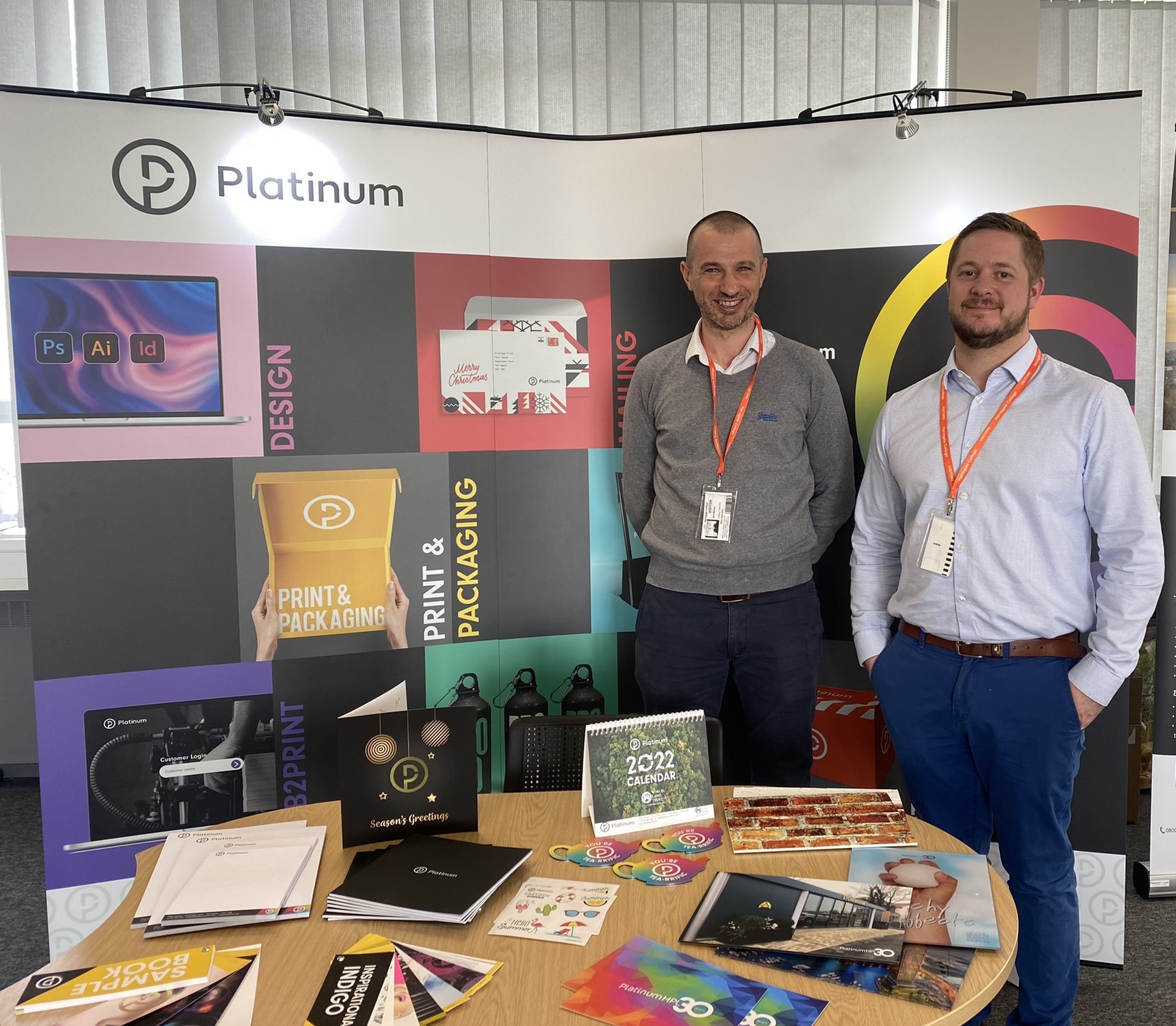 What printed products would you suggest were essential for making an event a success?
The stand itself, buy something quality and take care of it. You'll soon get your money's worth! We've got a large range to choose from and I often suggest looking at ways you can use the stand when you're not at an event, so it doesn't sit unused in a cupboard. Put it up in the boardroom or as a backdrop for Zoom calls. Several of our stands are designed around panels and are modular so you can split them up and use them in reception or swap out the graphics for different messages.
I would always recommend having some company brochures or leaflets, it will be a nice reminder when your customers unpack their bag of who you are. A well thought out company brochure with a beautiful finish can add heaps of value. Whilst business cards, notepads and pens aren't new, they are a great way of having your brand sat on your customers desk, day in day out.
Pick giveaways that people will use, you can't beat a good cotton shopper bag, everyone puts all the other bags from the event in the best bag they are given, it's also something useful that your customers will use, and whilst they may not think of you every time they use it, subconsciously your branding is there.
Personally, I'd say, avoid stress balls and tatt, there's a lot of it about and people are really looking for eco-friendly products, not something they will just chuck in the bin. Pick eco-friendly, sustainable recycled or recyclable products, oh and use a carbon balanced printer, which we are of course!
Don't forget to plan how you are going to capture the information of your attendees, give out your details but don't forget to ask for theirs. Following up is key to events and the ROI and all too often we forget to ask! Think about a promotion or raffle, it can help draw customers to your stand too.
From your experience what have you found works best on the day and during the event?
Before the day practice putting the stand up, don't leave it until the last minute, check all the pieces are there and working, if anything needs replacing order it with plenty of time. Even the eventing pros will feel the pressure in a room if the stand won't go up, it will make it far less stressful on the day!
Make a checklist to ensure you don't forget anything.
Check all electronics are working and the branding and information is correct, and of course that they have power for your stand (if needed).
Pack your marketing materials, brochures/giveaway/promotion.
Plan how you are going to capture details and follow up.
Don't forget the tablecloth, Sellotape, pins and sticky fixes can often save the day.
Check your travel time, aim to arrive early. Don't underestimate how much kit you must take in and if you've got time to spare then there is always networking or a nice hot drink before the first attendees arrive.
Finally, during the event, the most important thing is being approachable and genuine. Smile, talk and mingle. Yes, we have emails to answer still, but don't constantly look down at your phone or people will pass by and not stop. Engage with passers-by, even a simple hello will get people to stop usually.
Enjoy yourself and do follow up on contacts.
What sets Platinum Print apart from the rest?
In my opinion, the quality of product and service you receive. We will help every step of the way; nothing is too much trouble and we will make things happen. As we can help with all the elements for the event, it makes it super easy dealing with one supplier who understands the event and what you are trying to achieve. As we produce everything in house, we can keep control of all of the components, ensure brand consistency, excellent quality and even deliver direct to the show. If I can make an event stress free, or at least all the parts we help with, then that's a win for me.